You and your family gather around the living room for the annual tradition of watching the original RoboCop. Everything seems to be going well until RoboCop shoots Dick Jones so hard that he flies out of the window and mutates into a clay abomination on the way down.
Orion PicturesThey bought it for a dollar.
It's an objectively terrible effects shot, but everyone shrugs it off because, well, that was way back in 1987. It's not like they had CGI back then, and it was already illegal to chuck a real actor to his death. Later that night, your partner really wants to get to third base with you, but you say, "Nay, my beloved, as we have not yet finished the masterpiece that is Tim Burton's Batman." And after Jack Nicholson clings to the rungs of a helicopter ladder for what feels like an hour, he descends awkwardly into a pit of animation. "But the movie was made in 1989, my dear. Even with a much larger budget than RoboCop, we can't expect it to have nice things when it's a grandpa film."
Warner Bros. Pictures
The next day, you withdraw your children from school and tell them that the only education they need is motherfucking Die Hard. At the end, Hans Gruber is clinging desperately to Holly's wrist, but John McLane unclasps her watch and Hans plummets to the streets below. Their "bad guy falls to his big, dumb death" shot looks … pretty goddamned good. Not just good for 1988; that shot will look pretty convincing 50 years from now, when post-apocalyptic survivors mistake it for a documentary.
20th Century Fox"And so began the Christmas Eve tradition of dropping a criminal from the top of Nakatomi Plaza to ring in Christmas Day."
It's about here that you stop and ask yourself: Are special effects actually getting better with time? Is it possible that with all of the advances in technology (not just CGI, but prosthetics and animatronics), it's always been about whether or not the director knows how to shoot around their limitations?
You can look at the dinosaurs in Peter Jackson's King Kong, and wonder why they seem so wonky …
Universal Pictures
… and it isn't because "Well, it's from 2005." It's because even though that movie cost $207 million to make, they were more interested in creating an overstuffed, sprawling King Kong epic rather than more focused, compact version that nailed every shot. The result was a largely pointless sequence which features dinosaurs that look laughable compared to the ones in 1993's Jurassic Park. You could say that Spielberg's film didn't feature anything on the scale of King Kong's massive slapstick dinosaur stampede, but that's the point. The moment Spielberg realized he couldn't shoot that scene without it looking stupid, he'd have cut it.
We know this because he famously refused to use the terrible mechanical shark in Jaws, developing an entire editing style based on avoiding it aside from a few key moments. That rule — "If the effect looks stupid, work around it" — has been the same since film was invented. Conversely, Jaws 3D (directed by a guy who was never allowed to direct anything else) is well-known for having one of the worst shots in history, one that would be improved if it was replaced by a three-year-old swinging a plastic bathtub toy and yelling "HERE COMES MR. SHARK!"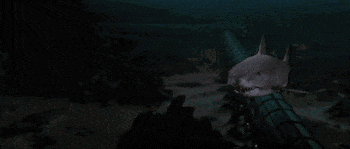 Universal Picturesduummb dummb… duuuummmb duumb… duuummmmb dumb dumb dumb dumb dumb dumb dumb dumb dumb dumb dummmmb dummmb
That movie had twice the budget of the original, by the way. Regardless of the era or the budget, effects are about what you choose to not put on the screen. Let's go back even further. In 1957's The Giant Claw, the world was ravaged by a flying ostrich puppet that had apparently been run over by a car before it was delivered to the studio:
Columbia PicturesAnd delivered in the back of a garbage truck.
Compare that to the stop-motion Rhedosaurus from 1953's The Beast From 20,000 Fathoms:
Warner Bros. Pictures"Must Be This Tall To Destroy This Ride."
See the difference? If you need help, the difference is that one looks like a Muppet got rabies, and the other looks goddamn awesome. Note the way they're hiding some details in darkness in the latter one, and how the beast is standing right in the middle of a real goddamned amusement park? Both movies had low budgets, but both chose radically different methods for working around them. The Giant Claw's directors just shipped the task off to a production company in Mexico for them to handle it. The whole thing was so disorganized that the lead actors of the film didn't even see the design of the monster they were supposed to be reacting to until the movie was already in theaters.
Meanwhile, the special effects of The Beast From 20,000 Fathoms were overseen by stop-motion Hercules Ray Harryhausen. The production's $200,000 budget (not even one week's worth of cocaine on a modern blockbuster) wouldn't allow them to build whole miniature landscapes, so he cleverly invented a split screen technique which involved inserting the monster into shots of the actual site, then using a bunch of clever tricks to hide the seams.
In fact, I'd say those old monster movies are maybe the best examples of good effects being the result not of technology, but effort and creativity. I'm a huge fan of classic Godzilla movies, and it always irks me when people make the blanket statement that the whole series is made up of B-movies featuring dudes tripping around in rubber suits. Check out the 1954 Gojira, and how detailed and atmospheric that shit is:
Toho
Oh look, there's another example of using night and shadows to help sell an effect. That's the work of Eiji Tsuburaya, godfather of Japanese special effects, realizing that if they showed Godzilla in broad daylight all the time, audiences would realize that there was no reason to be scared of a sweaty man dressed as a lizard. Compare that to frequent MST3K target Gamera, from 1969:
Kadokawa PicturesSadly, he fails the dismount and has to settle for the silver.
I'm going to take the bold position that audiences at the time knew that looked stupid, in the same way that we knew right in the theater that the Star Wars prequels' effects looked like video game cutscenes. If anything, the technology has let filmmakers do more effects shots, on a much larger scale. But they'll never develop a technology that will give them what they need: obsessive attention to detail, and even more importantly, restraint.
Daniel has a Twitter. Go to it. Enjoy yourself. Kick your boots off and stay for a while.
Godzilla costumes are still awesome, and you don't need anyone's permission to walk around in one.
If you loved this article and want more content like this, support our site with a visit to our Contribution Page. Please and thank you.
More From this publisher : HERE ; This post was curated using : TrendingTraffic
If you like our content help us with a share… or two …  
Also -  I have some free stuff for you .......
Nr 1. In This FREE Report you can Discover:
Secrets to acquiring the freshest, hottest leads via YouTube In-Stream ads quickly and easily! Best secret tips for the most effective targeting for your ads! Totally legal, but little-known method for literally stealing traffic from your competitors! Get more traffic to your videos and landing pages without spending a fortune! And much more - all within this special FREE report!
Nr 2. Did you know you can Absolutely EXPLODE YOUR EMAIL LIST FOR FREE with UNTOUCHED offline sources?
Nr 3. The #1 secret to becoming an affiliate superstar - Earn your first $100 online – without a dime to invest.
If you're still looking to "make it online – I have just the thing for you. It's a video series that shows how to make your first $100 online – even if you don't have a dime to invest. Yes – nothing.  Free.  Nada. Is this possible? You bet. It's the most powerful system used by those "in the know". Good things don't have to be difficult. And they don't only come to those who wait. Have A Look
Nr 4. Top 10 Email Marketing Mistakes. Which of these mistakes do you make?
Nr 5.  You can learn about : The hottest social networking site that will send an unlimited stampede of traffic to your site - for FREE! How to quickly locate a swarm of hungry buyers using "information portals"! The fast and easy way to use simple images to siphon targeted traffic, on command! Learn how to get the most possible traffic from Instagram, and make sure that traffic converts! And much more ...
Nr 6. It's no secret… Facebook is an incredible place to get tons of free, viral traffic. But… most people are going about it all wrong.  How many of these mistakes are you making? Download the free report to find out.
Nr 7.  Special free report .  It's called "Operation Midas Touch" and you can download it here...
The report features a surefire method for generating at least $1000 per week online,without a website or product of your own!
Nr 8.  Instagram is still one of the hottest ways to get a LOT of traffic fast. All by sharing images. Sounds easy enough, yeah? Well, yes and no. If you want to really start driving a lot of  traffic and making sales using Instagram then you should download this report.
Nr 9.  When it comes to creating a product online there are so many ways to approach it. Wouldn't it be great to just get the meat of it all so you can get started faster? Well, the good news is, today you can download a guide called the Product Creation Formula Quickstart Guide. It's as the title suggests - a Quickstart guide. You'll get a list of action steps to take right away. Download your copy today !
Nr 10. Would you like to finally USE all of that dusty PLR you have sitting around on your harddrive? Or maybe find the resources for the best PLR available - at the best prices? What about how to use that PLR to make you money with just a few minutes of work. Well, you're not going to want to miss this!
  Nr 11. Buzzfeed's top post has more than 21 million views. Think about that for a sec… ONE of their articles has had over 21 million people who have read it! And they have thousands of articles... what would you do with that kind of traffic? A friend of mine hacked their method and was able to use it to get 11,592 targeted new subscribers in 2 weeks on their very first attempt!
Nr 12. Push notifications are one of today's hottest trends in website traffic and conversions, and for good reason. Studies have shown that as many as 40% of people will opt-in for push notifications, which is about TEN TIMES the rate of people who opt-in for emails! That's huge! Not only that, but they're also highly effective at pulling clicks, as well. Some studies have shown CTR at an average of around 40%, with highs of as much as 80%! Again, that's huge!
Nr 13. Would you like to know how to get more money from the exact same number of website visitors you're currently getting? Even if you're website is getting as few as 1-2 visitors a day, this report will show you how to increase your profits using these few handy hacks.
Nr 14. People have now realised that it's not the size of the list which matters, it's the quality. ... and the only way to create a quality list is by launching your own products. Let it be $7 ebooks, $17 info products, $27 video training product or software's... all of these work. My good friend Kevin Fahey has is revealing how he's launched over 20 products in the past 4 years, many of them top sellers. Needless to say he's banked a handsome amount in this time.
Nr 15. Do you ever feel that the man you like or even love, just doesn't see you or desire you in way you want him to? Or... maybe you're able to get a man's attention though not the right kind of attention? Or... maybe you're still single because you wait and wait for men to approach you first? What you may not know is that the way we flirt will either attract the "wrong" man for us or the "right" man.
Nr 16. When it comes to getting sales and leads online, there is ONE thing that 95% of marketers use... it's called a LIST. My friend Jimmy just released a free book that explains WHY a list is important and how YOU can build your own list. It's available right here (and it won't cost you a penny)
Nr 17. If you have tried everything, and still aren't able to get your Ex back, then you need to pay attention.
Nr 18. What if I told you that you could make ANY woman WANT to do ANYTHING for you? Would you think I'm crazy? Well... what If I told you that you could also make her LOVE every minute of it and come back for more?
Nr 19. I have a special free plugin for you today. It's called "Covert Hover Mini"
This plugin will triple your blog traffic by compelling your visitors to share your images on social media. This is some really clever stuff and it works like a charm. After you grab your free plugin, don't  forget to read the free bonus report as it will show exactly how and why this strategy works like crazy.
Nr 20. The days of being able to get away with a basic WP theme and a pic or two are gone, your site needs to look good. Even Google are looking for you to have engaging graphics on your site. But getting good quality graphics made for your site is a pain, AND it will cost you both time and money (if you outsource it). But I have a special free download for you today. A virtual treasure chest of over 21K profit pulling graphics you can start sing today to generate more traffic & sales!
Nr 21. 20 professional full HD background videos. These background videos are perfect for giving your videos that extra kick they need to stand out from the crowd Oh yeah they are in full 1080p HD too, I hope you'll enjoy them.
Nr 22. If you've ever failed to create a WordPress site of your own or typically waste hours & even weeks trying to figure it all out on your own....
Nr 23. No doubt, you've seen all of the video launches lately! There is a reason for it... Video marketing is a GREAT way to make money, and with the recent creation tools making it super accessable for anyone to get started... It's no surprise that more people are making videos. However... there is a missing element to most video marketing products...
Nr 24. For the first time ever... You can get the straight scoop on how someone is selling over $1,000,000/year of t-shirts on Facebook!
Use them  .... and have fun !