Bitcoin is looking increasingly likely to splinter off again in November, creating a third version of the world's largest cryptocurrency as miners and developers pursue separate visions to scale its rapidly growing marketplace.
Major industry players, including the bitcoin investor Roger Ver known as "Bitcoin Jesus" for proselytizing on behalf of the digital currency, say consensus between opposing camps looked increasingly unlikely. That opinion was echoed by some of the biggest mining pool operators and also programmers — known as "Core" developers — who were instrumental to developing the infrastructure of the original bitcoin network.
In recent weeks, a group of miners — people who crunch complex math problems to generate and transact the digital currency — split off from the legacy bitcoin to use a new version known as Bitcoin Cash. Ver is moving some of his funds into the new offshoot as he anticipates what would be the second split of the currency of 2017. Ver admits he could potentially benefit from such a schism as more coins are created.
"There's probably going to be another split between bitcoin legacy and SegWit2X version of bitcoin but that just gives me more coins that I can sell for the Bitcoin Cash version," Ver said in an interview on Bloomberg Television at a conference organized by Bitkan in Hong Kong.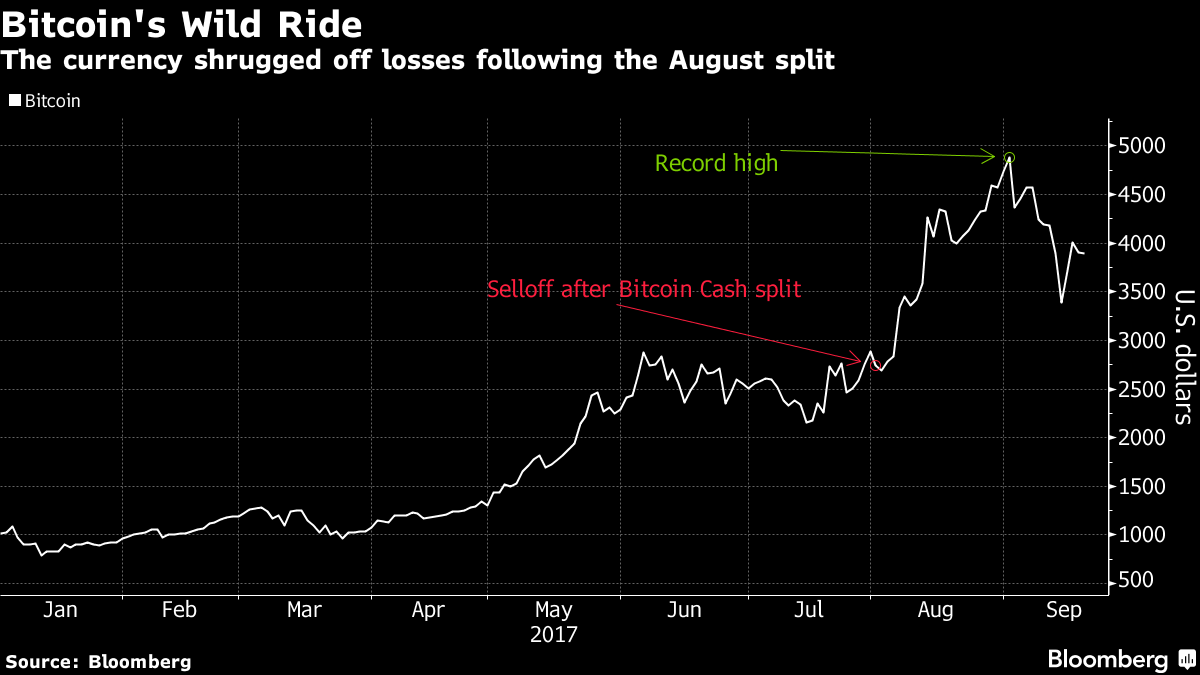 Bitcoin's popularity has led to congestion in trade, with transaction times and processing fees at one point soaring to records. Debate over how to deal with the problem has divided the trading community, with some proposing boosting the number of transactions in each block that has to be verified by miners, and others advocating for moving some information off the main network.
One faction of the community is pushing for a network upgrade in November, which could lead to a split if no consensus is made.
Read more about the fracas over the fate of the currency
When the split occurred around the beginning of August — with Bitcoin Cash diverging from legacy bitcoin — the digital currency initially slumped 6.8 percent in a two-day slide as investors appeared to discount the value of the new coin. But prices subsequently rallied, surging to a record $4,880.85 by Sept. 1 before China announced a crackdown on cryptocurrency exchanges and initial coin offerings that sent prices plunging 20 percent.
While an early adopter of bitcoin, Ver has also attracted controversy for his embrace of Bitcoin Cash, which some developers criticize for giving too much power to miners.
If another tear occurs in November, it would create a third version of the cryptocurrency and potentially further scatter capital and resources as three offshoots of bitcoin emerge.
SegWit2x refers to a compromise proposal developed to deal with the surge in transactions. In August, miners agreed to implement the first phase of the proposal, or SegWit. They were expected to increase the blocksize to two megabytes around November in a second phase.
Avoiding such a splinter requires miners to reach at least 92-percent consensus on supporting the second phase of SegWit2x, but that's becoming increasingly unlikely, according to Wang Chun, co-owner and chief administrator of F2Pool, one of the world's largest mining pools.
Even though SegWit2x garnered more than 93 percent support in July, miners and developers seem to be backing away from the proposal, a compromise that harbors characteristics disliked by extremists on both sides. Wang said he thinks the split will "happen, 100 percent."
Many Core developers agree. Several have said they'd prefer to focus on writing code in the future for only the SegWit chain: currently the largest version of bitcoin at about $64 billion in market value.
"Many developers, users, miners, and businesses have already stated they do not agree with the pointless 2x fork, so we'll likely end up with three chains," said Samson Mow, chief strategy officer at Blockstream, which has close associations with Core developers. "Long-term, only the main bitcoin chain which has the support of users and developers can survive."
Then there's Bitcoin Cash, which was split off so miners could boost the block size of transactions. It's more useful as it can be moved more quickly and cheaply than other cryptocurrencies, Ver argued. Some bitcoin exchanges and wallets have said they will support the new coin, while others are uncertain whether Bitcoin Cash will have lasting market value.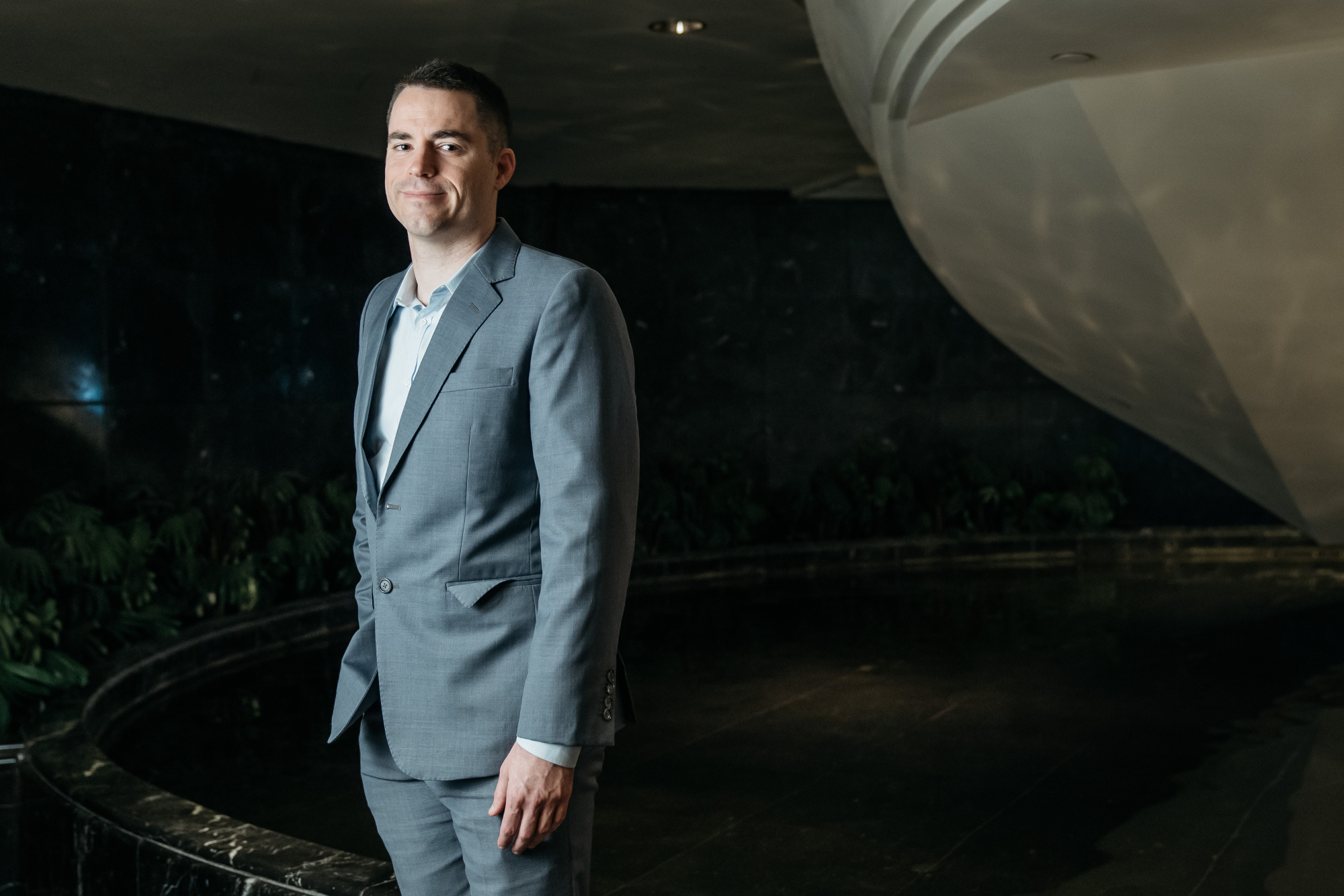 Already, key players are warning investors to brace for more turmoil. Core developers including Peter Todd say the fork this time could be much more tumultuous, and could incur more user confusion of what version can be dubbed the actual "bitcoin."
"In a sense, a split is 100-percent guaranteed," said Todd, a key coding contributor to bitcoin. "The split is likely to be more disruptive."
More From this publisher : HERE
If you like our content help us with a share… or two …  
Also -  I have some free stuff for you .......
Nr 1. In This FREE Report you can Discover:
Secrets to acquiring the freshest, hottest leads via YouTube In-Stream ads quickly and easily! Best secret tips for the most effective targeting for your ads! Totally legal, but little-known method for literally stealing traffic from your competitors! Get more traffic to your videos and landing pages without spending a fortune! And much more - all within this special FREE report!
Nr 2. Did you know you can Absolutely EXPLODE YOUR EMAIL LIST FOR FREE with UNTOUCHED offline sources?
Nr 3. The #1 secret to becoming an affiliate superstar - Earn your first $100 online – without a dime to invest.
If you're still looking to "make it online – I have just the thing for you. It's a video series that shows how to make your first $100 online – even if you don't have a dime to invest. Yes – nothing.  Free.  Nada. Is this possible? You bet. It's the most powerful system used by those "in the know". Good things don't have to be difficult. And they don't only come to those who wait. Have A Look
Nr 4. Top 10 Email Marketing Mistakes. Which of these mistakes do you make?
Nr 5.  You can learn about : The hottest social networking site that will send an unlimited stampede of traffic to your site - for FREE! How to quickly locate a swarm of hungry buyers using "information portals"! The fast and easy way to use simple images to siphon targeted traffic, on command! Learn how to get the most possible traffic from Instagram, and make sure that traffic converts! And much more ...
Nr 6. It's no secret… Facebook is an incredible place to get tons of free, viral traffic. But… most people are going about it all wrong.  How many of these mistakes are you making? Download the free report to find out.
Nr 7.  Special free report .  It's called "Operation Midas Touch" and you can download it here...
The report features a surefire method for generating at least $1000 per week online,without a website or product of your own!
Nr 8.  Instagram is still one of the hottest ways to get a LOT of traffic fast. All by sharing images. Sounds easy enough, yeah? Well, yes and no. If you want to really start driving a lot of  traffic and making sales using Instagram then you should download this report.
Nr 9.  When it comes to creating a product online there are so many ways to approach it. Wouldn't it be great to just get the meat of it all so you can get started faster? Well, the good news is, today you can download a guide called the Product Creation Formula Quickstart Guide. It's as the title suggests - a Quickstart guide. You'll get a list of action steps to take right away. Download your copy today !
Nr 10. Would you like to finally USE all of that dusty PLR you have sitting around on your harddrive? Or maybe find the resources for the best PLR available - at the best prices? What about how to use that PLR to make you money with just a few minutes of work. Well, you're not going to want to miss this!
  Nr 11. Buzzfeed's top post has more than 21 million views. Think about that for a sec… ONE of their articles has had over 21 million people who have read it! And they have thousands of articles... what would you do with that kind of traffic? A friend of mine hacked their method and was able to use it to get 11,592 targeted new subscribers in 2 weeks on their very first attempt!
Nr 12. Push notifications are one of today's hottest trends in website traffic and conversions, and for good reason. Studies have shown that as many as 40% of people will opt-in for push notifications, which is about TEN TIMES the rate of people who opt-in for emails! That's huge! Not only that, but they're also highly effective at pulling clicks, as well. Some studies have shown CTR at an average of around 40%, with highs of as much as 80%! Again, that's huge!
Nr 13. Would you like to know how to get more money from the exact same number of website visitors you're currently getting? Even if you're website is getting as few as 1-2 visitors a day, this report will show you how to increase your profits using these few handy hacks.
Nr 14. People have now realised that it's not the size of the list which matters, it's the quality. ... and the only way to create a quality list is by launching your own products. Let it be $7 ebooks, $17 info products, $27 video training product or software's... all of these work. My good friend Kevin Fahey has is revealing how he's launched over 20 products in the past 4 years, many of them top sellers. Needless to say he's banked a handsome amount in this time.
Nr 15. Do you ever feel that the man you like or even love, just doesn't see you or desire you in way you want him to? Or... maybe you're able to get a man's attention though not the right kind of attention? Or... maybe you're still single because you wait and wait for men to approach you first? What you may not know is that the way we flirt will either attract the "wrong" man for us or the "right" man.
Nr 16. When it comes to getting sales and leads online, there is ONE thing that 95% of marketers use... it's called a LIST. My friend Jimmy just released a free book that explains WHY a list is important and how YOU can build your own list. It's available right here (and it won't cost you a penny)
Nr 17. If you have tried everything, and still aren't able to get your Ex back, then you need to pay attention.
Nr 18. What if I told you that you could make ANY woman WANT to do ANYTHING for you? Would you think I'm crazy? Well... what If I told you that you could also make her LOVE every minute of it and come back for more?
Nr 19. I have a special free plugin for you today. It's called "Covert Hover Mini"
This plugin will triple your blog traffic by compelling your visitors to share your images on social media. This is some really clever stuff and it works like a charm. After you grab your free plugin, don't  forget to read the free bonus report as it will show exactly how and why this strategy works like crazy.
Nr 20. The days of being able to get away with a basic WP theme and a pic or two are gone, your site needs to look good. Even Google are looking for you to have engaging graphics on your site. But getting good quality graphics made for your site is a pain, AND it will cost you both time and money (if you outsource it). But I have a special free download for you today. A virtual treasure chest of over 21K profit pulling graphics you can start sing today to generate more traffic & sales!
Nr 21. 20 professional full HD background videos. These background videos are perfect for giving your videos that extra kick they need to stand out from the crowd Oh yeah they are in full 1080p HD too, I hope you'll enjoy them.
Nr 22. If you've ever failed to create a WordPress site of your own or typically waste hours & even weeks trying to figure it all out on your own....
Nr 23. No doubt, you've seen all of the video launches lately! There is a reason for it... Video marketing is a GREAT way to make money, and with the recent creation tools making it super accessable for anyone to get started... It's no surprise that more people are making videos. However... there is a missing element to most video marketing products...
Nr 24. For the first time ever... You can get the straight scoop on how someone is selling over $1,000,000/year of t-shirts on Facebook!
Use them  .... and have fun !