For those bored with multimillion-dollar megayachts, with their ho-hum helipads and snooze-inducing jacuzzis, consider the 928-foot-long M7, designed by the Austrian company, Migaloo Private Submersible Yachts.
If you're the helipad-on-a-sea-vessel type, the M7 not only has a place for your chopper to land, it has a swimming pool, VIP suites, multiple hangar bays, and a design inspired by the U.S. Navy's Zumwalt-class destroyers. (Alas, its engines are diesel-electric, not nuclear-powered.)
And unlike a yacht, which is just going to sit there on top of the water, floating around like a $200 million chunk of burnished driftwood, the M7 can dive to 1,500 feet and cruise underwater at 20 knots. The real excitement, as Sebastian the Crab once sang, is "under the sea."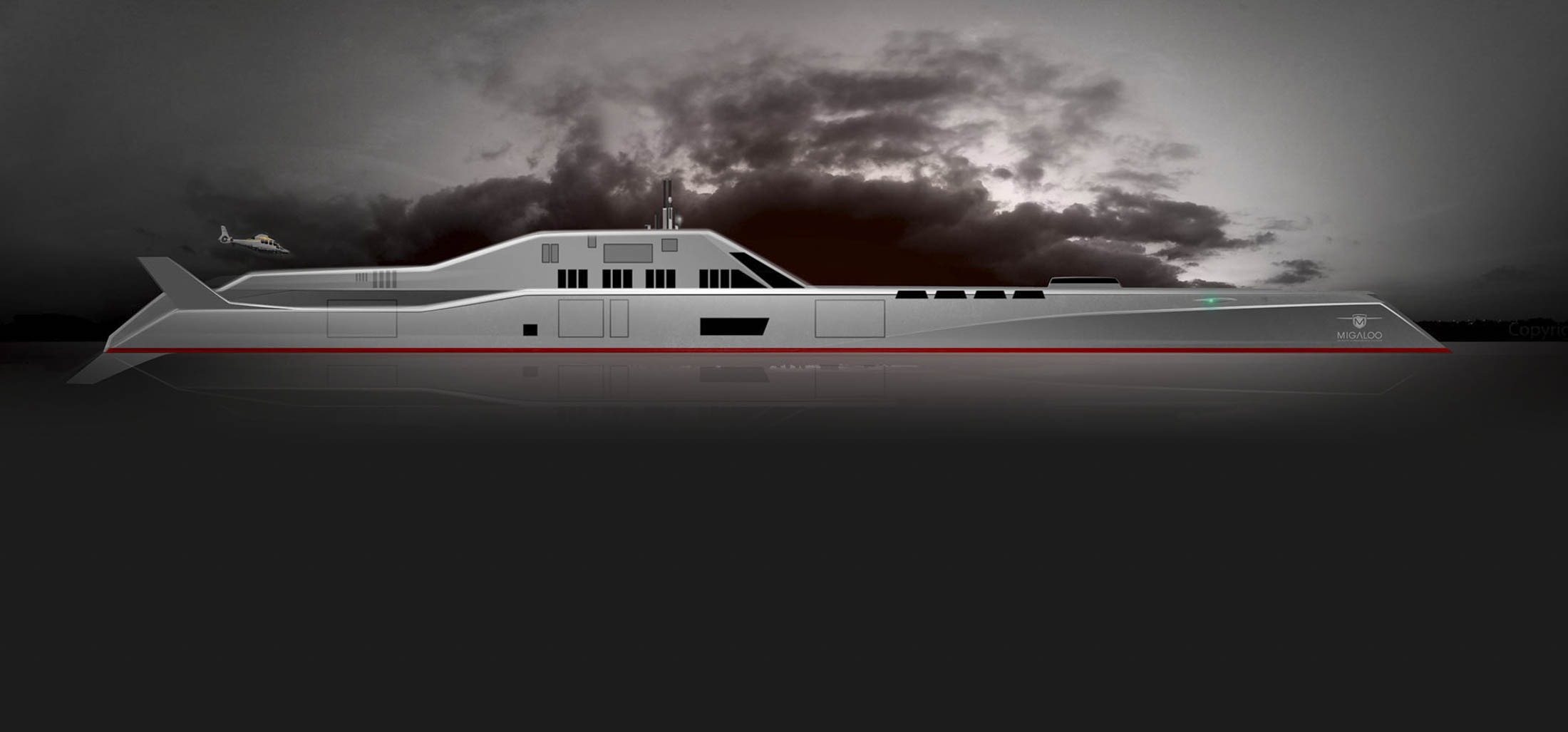 Life may be better down where it's wetter, but the M7 will cost you. There's no precise price tag yet, says Christian Gumpold, chief executive officer of Migaloo. But the $2.3 billion figure mentioned in this report is close. "This would make it for sure to the most expensive private object worldwide," Gumpold told us via email.
The M7 is not the only submarine available to those rich enough to afford one. For a couple of decades, companies such as Triton Submarines, DeepFlight Adventures, U-Boat Worx BV, and Seamagine Hydrospace Corp. have been producing and selling "submersibles." These are smaller vehicles, capable of taking from two to eight passengers thousands of feet down to explore the ocean for hours at a time. OceanGate Inc., founded by the adventure-loving entrepreneur Stockton Rush, is planning to take passengers to the remains of the in 2018.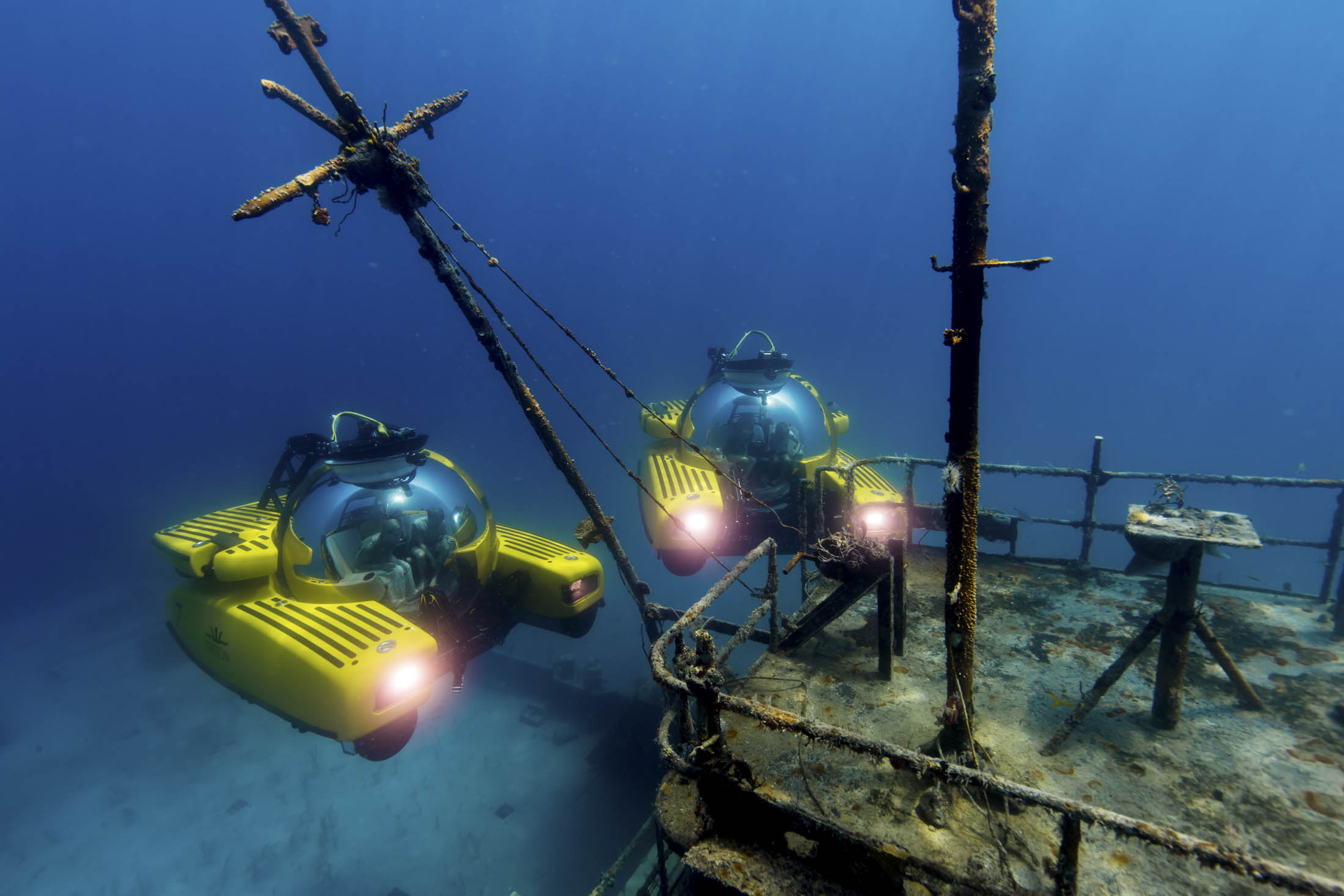 Submersibles can't, however, regenerate their own power, and they rely on yachts or other vessels for long-distance transport and servicing. They're pretty awesome, but they're more James Cameron, less James Bond.
Full-on, luxurious, yacht-style submarines are a more recent development. Three companies—Migaloo, the Florida-based U.S. Submarines Inc., and Ocean Submarine in the Netherlands—produce sub designs that aspiring Bond villains dream of: capable of traveling 1,000 miles or more, luxuriously appointed, and the kind of underwater headquarters from which you can plot world domination, or maybe just host friends for a week of exploration.
As you might expect, private submarines are phenomenally expensive. U.S. Submarines' Nomad 1000—which seats 10 to 24, has a range of 1,000 nautical miles, and can dive to 1,000 feet—begins at $6.5 million. Its top-of-the-line, 213-foot-long Phoenix 1000, which has more than 5,000 square feet of interior, is estimated to cost $90 million.
So while dozens of private submersibles are bobbing around the deep, there are currently no private luxury subs in existence. For all the renderings zipping around the Internet, subs such as the M7 and the Phoenix 1000 remain (mostly) theoretical.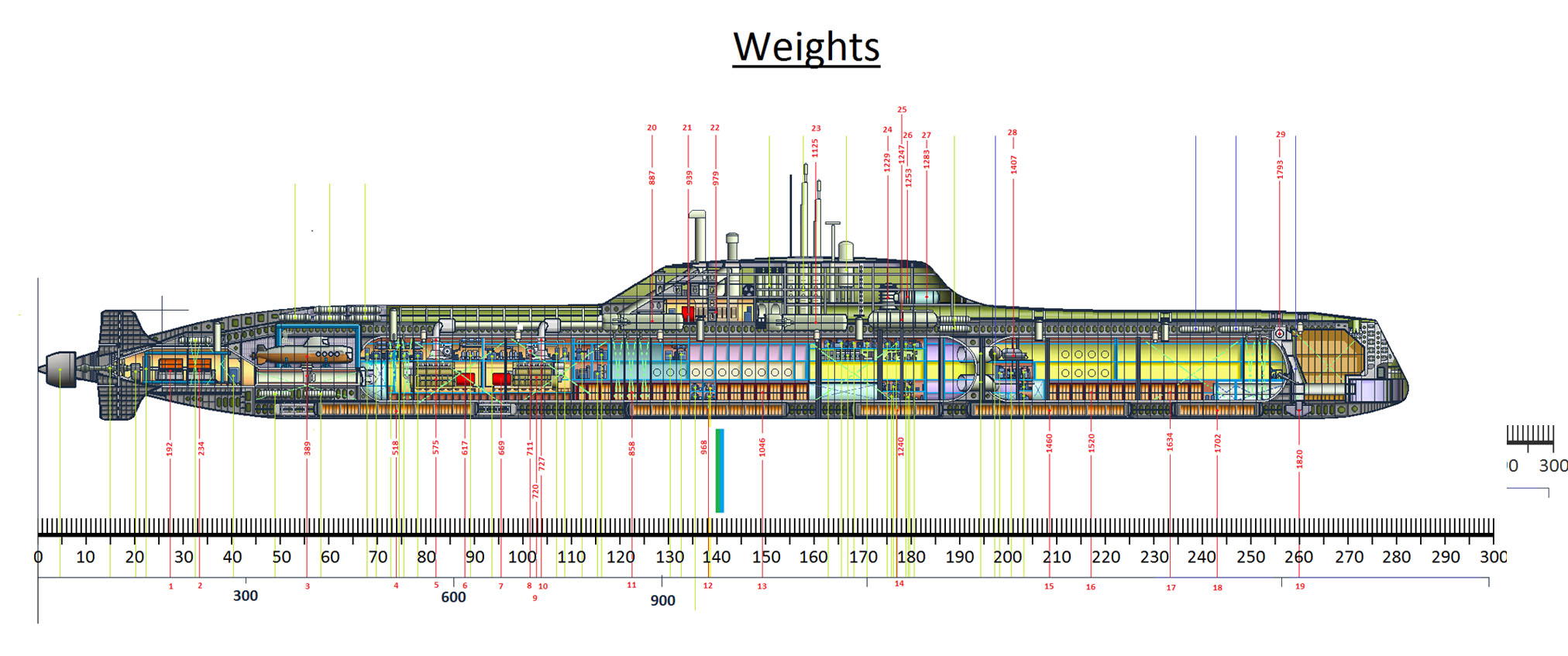 "We're not building anything right now," said L. Bruce Jones, the founder and CEO of U.S. Submarines, adding that his company, which is affiliated with Triton, is focusing on submersibles "because that's where the market is."
"It seems like a massively expensive engineering exercise—and an unproven one—in the recreational sector," said Stewart Campbell, editor of . "Yachting is often a volume game—how much space can you pack into your hull and superstructure? There's a cost-per-gross-tonne calculation that the superyacht world understands. I imagine with one of these big submersibles, that equation goes out the window. You're not getting much volume for the money, and the equivalent yacht will give you more of everything."
It's also possible that safety concerns hinder potential buyers, though all sub makers adhere to safety standards issued by organizations such as the American Bureau of Shipping and the Norwegian DNV GL, as well as the U.S. Navy's Subsafe specifications. They all also claim perfect records, with about 1 million passengers per year going on dives as tourists.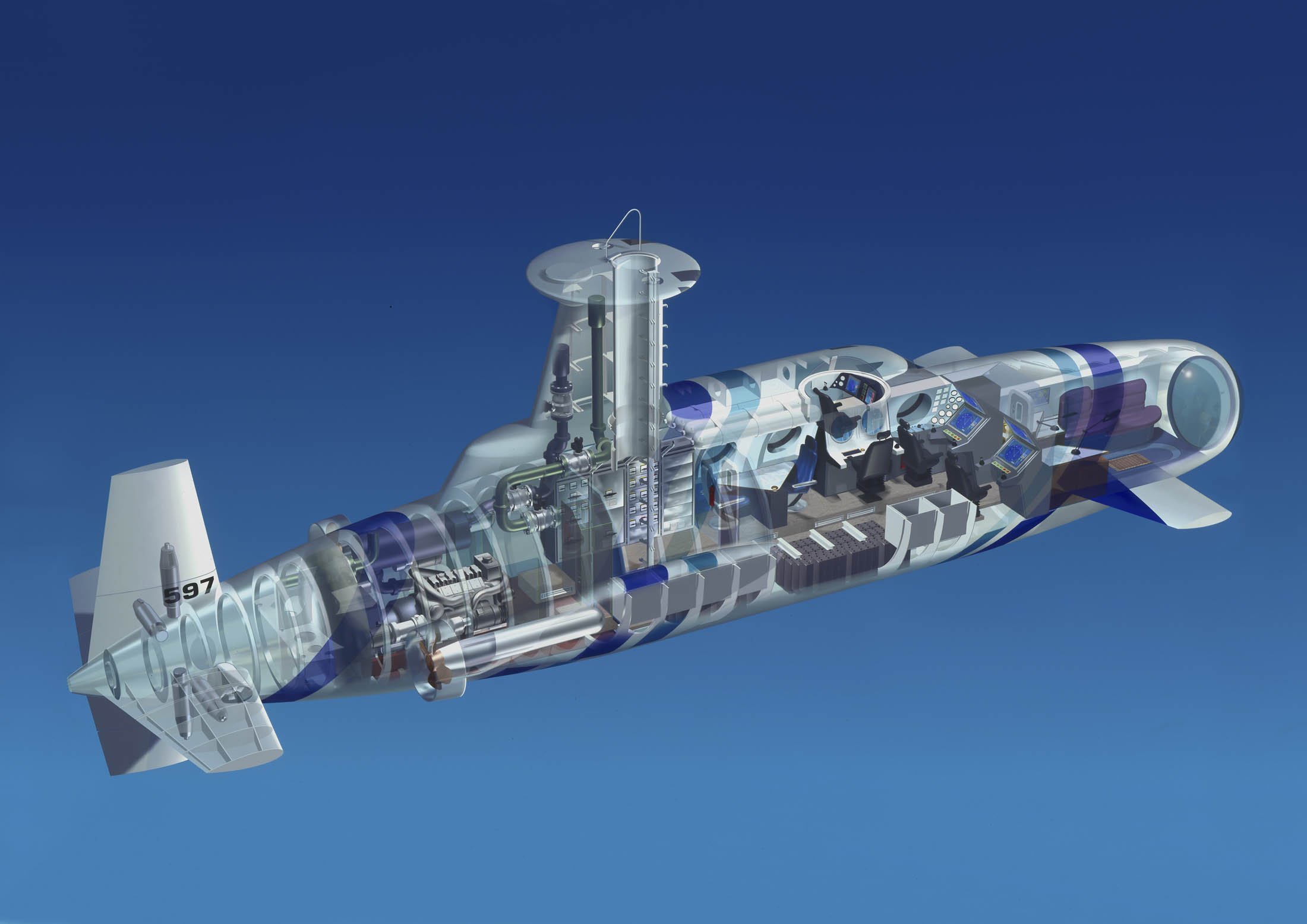 Of the three manufacturers, only Ocean Submarine (which supplies subs to the military)  is under contract to complete a civilian vessel, for what CEO Martin van Eijk calls "a very rich client." Set to be delivered in 2018, the 64-foot Neyk L3 can seat up to 20 passengers, depending on the configuration, with a bar, galley, and library. (Van Eijk did not know which books will go into the library.)
The L3 may be smaller than Migaloo's offerings, but its size offers some advantages. The company's idea of luxury is, according to its brochures, about "more than Connolly leather." As with, say, a Lamborghini, this is about comfort and control: Vertical thrusters let the L3 remain in one place, despite ocean currents; landing gear allows the sub to pull up on beaches (no marina necessary); and the ride is quiet and precise, with a range of 500 to 1,500 nautical miles. Plus, it's only 20 million euros ($23.8 million), practically a bargain. (Buy two!)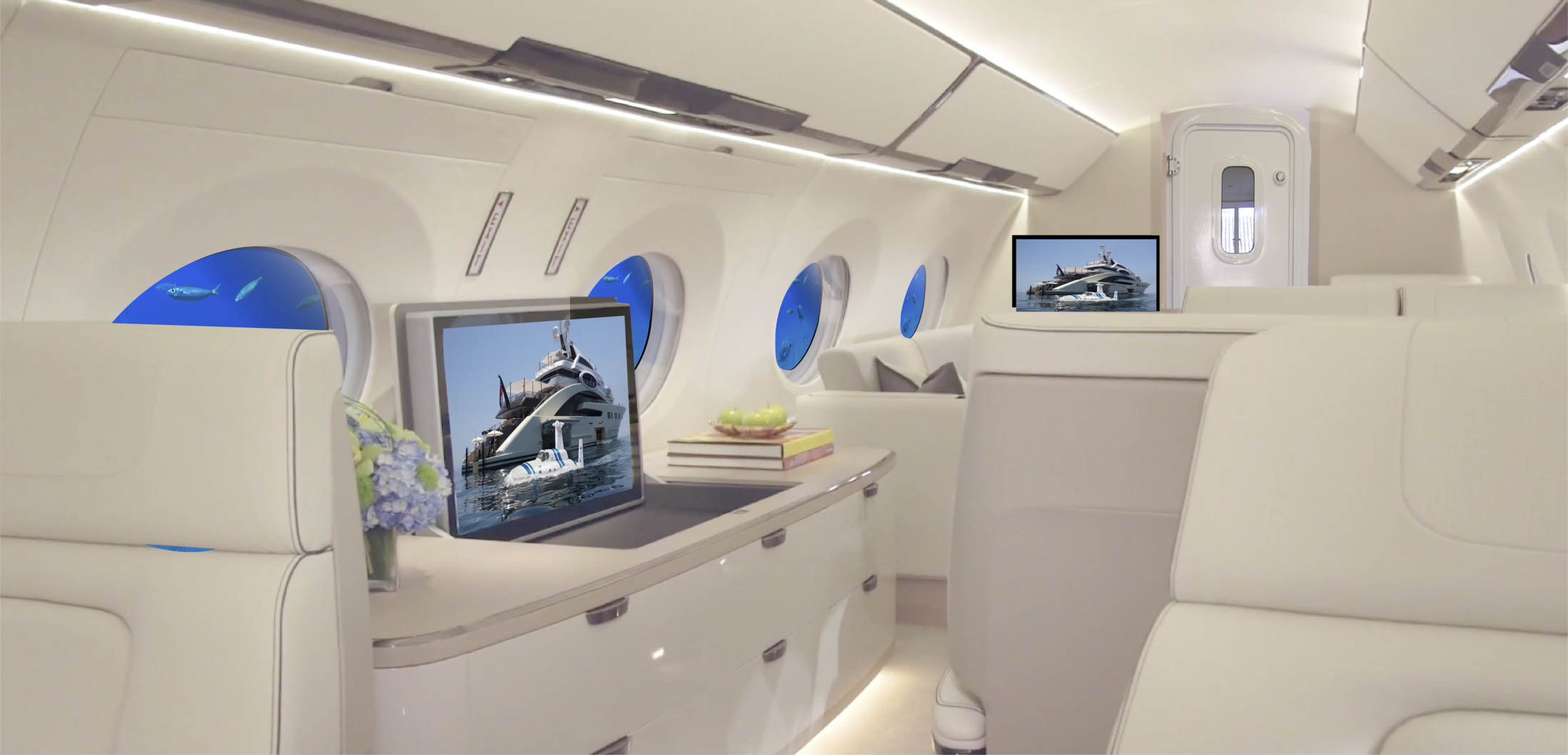 Learning to pilot these subs—or rather, training a crew to pilot them—is essential. In the U.S., pilots need to have a master's license, but there's more to it than that. "When a submarine is on the surface, it's the same like another ship," van Eijk said. "But when you go down under, you need some rules to understand."
Ocean Submarines, he said, has a German training center, with the same simulator as airplanes. "We can do the same interior as the cockpits, so the client can see how exactly the submarine will work," he said. The training typically takes four months.
Once you've got your sub and your trained crew, you can go wherever you like, the manufacturers told me. There are no specific legal restrictions on civilian subs anywhere in the world. Which is not to say coast guards won't take note of your presence.
"When you bring a submersible into someone else's territorial waters, not everybody is as enthusiastic about allowing you to go diving," said Patrick Lahey, the founder and president of Triton Submarines. "The areas that people seem to be most concerned about submersibles being used are Greece and France, because they have antiquities on the bottom and they're concerned that a person that owns a submersible might be going down and taking things that might be an important part of history." (Mechanical grabbing arms and diver lock-out chambers are popular add-ons for most subs.)
There is a way to assuage concerns, Lahey said. "Involve the local authorities in what you're doing, both to assure them you're not there to plunder their antiquities but to give them an opportunity to dive in their own waters and to see things maybe they've never seen themselves."
If that doesn't work, you could always invite them for a dip in one of your jacuzzis, or a midnight screening of the new Star Wars movie at your sub's open-air cinema. And if the paparazzi show up to spy, you can do what mere superyacht owners never can: Dive.
More From this publisher : HERE
If you like our content help us with a share… or two …  
Also -  I have some free stuff for you .......
Nr 1. In This FREE Report you can Discover:
Secrets to acquiring the freshest, hottest leads via YouTube In-Stream ads quickly and easily! Best secret tips for the most effective targeting for your ads! Totally legal, but little-known method for literally stealing traffic from your competitors! Get more traffic to your videos and landing pages without spending a fortune! And much more - all within this special FREE report!
Nr 2. Did you know you can Absolutely EXPLODE YOUR EMAIL LIST FOR FREE with UNTOUCHED offline sources?
Nr 3. The #1 secret to becoming an affiliate superstar - Earn your first $100 online – without a dime to invest.
If you're still looking to "make it online – I have just the thing for you. It's a video series that shows how to make your first $100 online – even if you don't have a dime to invest. Yes – nothing.  Free.  Nada. Is this possible? You bet. It's the most powerful system used by those "in the know". Good things don't have to be difficult. And they don't only come to those who wait. Have A Look
Nr 4. Top 10 Email Marketing Mistakes. Which of these mistakes do you make?
Nr 5.  You can learn about : The hottest social networking site that will send an unlimited stampede of traffic to your site - for FREE! How to quickly locate a swarm of hungry buyers using "information portals"! The fast and easy way to use simple images to siphon targeted traffic, on command! Learn how to get the most possible traffic from Instagram, and make sure that traffic converts! And much more ...
Nr 6. It's no secret… Facebook is an incredible place to get tons of free, viral traffic. But… most people are going about it all wrong.  How many of these mistakes are you making? Download the free report to find out.
Nr 7.  Special free report .  It's called "Operation Midas Touch" and you can download it here...
The report features a surefire method for generating at least $1000 per week online,without a website or product of your own!
Nr 8.  Instagram is still one of the hottest ways to get a LOT of traffic fast. All by sharing images. Sounds easy enough, yeah? Well, yes and no. If you want to really start driving a lot of  traffic and making sales using Instagram then you should download this report.
Nr 9.  When it comes to creating a product online there are so many ways to approach it. Wouldn't it be great to just get the meat of it all so you can get started faster? Well, the good news is, today you can download a guide called the Product Creation Formula Quickstart Guide. It's as the title suggests - a Quickstart guide. You'll get a list of action steps to take right away. Download your copy today !
Nr 10. Would you like to finally USE all of that dusty PLR you have sitting around on your harddrive? Or maybe find the resources for the best PLR available - at the best prices? What about how to use that PLR to make you money with just a few minutes of work. Well, you're not going to want to miss this!
  Nr 11. Buzzfeed's top post has more than 21 million views. Think about that for a sec… ONE of their articles has had over 21 million people who have read it! And they have thousands of articles... what would you do with that kind of traffic? A friend of mine hacked their method and was able to use it to get 11,592 targeted new subscribers in 2 weeks on their very first attempt!
Nr 12. Push notifications are one of today's hottest trends in website traffic and conversions, and for good reason. Studies have shown that as many as 40% of people will opt-in for push notifications, which is about TEN TIMES the rate of people who opt-in for emails! That's huge! Not only that, but they're also highly effective at pulling clicks, as well. Some studies have shown CTR at an average of around 40%, with highs of as much as 80%! Again, that's huge!
Nr 13. Would you like to know how to get more money from the exact same number of website visitors you're currently getting? Even if you're website is getting as few as 1-2 visitors a day, this report will show you how to increase your profits using these few handy hacks.
Nr 14. People have now realised that it's not the size of the list which matters, it's the quality. ... and the only way to create a quality list is by launching your own products. Let it be $7 ebooks, $17 info products, $27 video training product or software's... all of these work. My good friend Kevin Fahey has is revealing how he's launched over 20 products in the past 4 years, many of them top sellers. Needless to say he's banked a handsome amount in this time.
Nr 15. Do you ever feel that the man you like or even love, just doesn't see you or desire you in way you want him to? Or... maybe you're able to get a man's attention though not the right kind of attention? Or... maybe you're still single because you wait and wait for men to approach you first? What you may not know is that the way we flirt will either attract the "wrong" man for us or the "right" man.
Nr 16. When it comes to getting sales and leads online, there is ONE thing that 95% of marketers use... it's called a LIST. My friend Jimmy just released a free book that explains WHY a list is important and how YOU can build your own list. It's available right here (and it won't cost you a penny)
Nr 17. If you have tried everything, and still aren't able to get your Ex back, then you need to pay attention.
Nr 18. What if I told you that you could make ANY woman WANT to do ANYTHING for you? Would you think I'm crazy? Well... what If I told you that you could also make her LOVE every minute of it and come back for more?
Nr 19. I have a special free plugin for you today. It's called "Covert Hover Mini"
This plugin will triple your blog traffic by compelling your visitors to share your images on social media. This is some really clever stuff and it works like a charm. After you grab your free plugin, don't  forget to read the free bonus report as it will show exactly how and why this strategy works like crazy.
Nr 20. The days of being able to get away with a basic WP theme and a pic or two are gone, your site needs to look good. Even Google are looking for you to have engaging graphics on your site. But getting good quality graphics made for your site is a pain, AND it will cost you both time and money (if you outsource it). But I have a special free download for you today. A virtual treasure chest of over 21K profit pulling graphics you can start sing today to generate more traffic & sales!
Nr 21. 20 professional full HD background videos. These background videos are perfect for giving your videos that extra kick they need to stand out from the crowd Oh yeah they are in full 1080p HD too, I hope you'll enjoy them.
Nr 22. If you've ever failed to create a WordPress site of your own or typically waste hours & even weeks trying to figure it all out on your own....
Nr 23. No doubt, you've seen all of the video launches lately! There is a reason for it... Video marketing is a GREAT way to make money, and with the recent creation tools making it super accessable for anyone to get started... It's no surprise that more people are making videos. However... there is a missing element to most video marketing products...
Nr 24. For the first time ever... You can get the straight scoop on how someone is selling over $1,000,000/year of t-shirts on Facebook!
Use them  .... and have fun !